Now, when the summer is close to its end, we can let ourselves relax for a moment and forget about the changing water and upcoming winter by going through these pictures of some of the most beautiful places in the world. From the Providenciales Island to Jamaica, from Aruba to Mexico and Florida, an
essay writer
research will take us for a swim around some of the world's most beautiful beaches, in the summer of 2012. Enjoy.
Providenciales
Providenciales is an island in the Turks and Caicos Islands and one of the world's top beach destinations. Among the most famous ones is the beach at Grace Bay. Providenciales is great vacation destination not only for families and romantic couples on their honeymoon, relaxing on its uncrowded beaches, but is also a lot of fun for the divers and snorkelers who often flock here to explore the abundant barrier reefs, especially the Smith's Reef and its well-known ocean floor walk.
Palm/Eagle Beach, Aruba
The Aruba Island is not only one of the most beautiful tourist destinations in the world, but it also has very opulent history and culture. Its most beautiful beaches are the Palm Beach, on the west side of the island, and the Caribbean Eagle Beach, both equally mesmerizing thanks to their powdery white sands and turquoise waters that offer perfect swimming conditions. If you are willing to dive you wouldn't want to miss the opportunity to see the wreck of the torpedoed tanker Pedernales.
Tulum, Mexico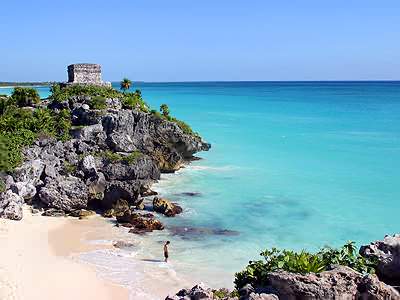 Tulum is a combination of relaxation, romance and archeology. The tourists can sunbathe on the gorgeous long sand beaches, under the tall coconut palm trees or swim in the wide turquoise waters, at the same time enjoying the well-preserved ancient ruins of the Pre-Columbian Mayan walled city on the side. The modern parts of Tulum have luxurious hotels that offer the traditional ancient Mayan massage and spa treatments for their guests. Is there anything more beautiful than this?
Negril, Jamaica
Negril is a small beach resort town located in Jamaica. Its most famous Seven Mile Beach is ranked among the best beach destinations in the whole world by different travel magazines. The snorkelers and divers will love the West End Road known as the "Negril Cliffs", with jumping points over 40 feet (12 m) high. There also are nude beaches for those who want their tan to be more even. Negril is unique in its laid back atmosphere and friendliness. It's definitely a place for a fun holiday.
Saint Pete Beach, Florida
This ideal seaside destination, known for its pristine sugary white sand beaches and the clear gulf waters, is situated on a Florida's west coast peninsula, offering warm sunshine and plenty of hospitality to its guests. The frolicking dolphins, corals and the diverse deep-sea world make the Saint Pete Beach the perfect choice for a summer vacation. The guests can also visit the nearby world known Salvador Dali Museum, the Fort De Soto Park, as well as the St. Petersburg Pier.